Optimal location
More and more, Würselen can benefit from its optimal location close to the most important traffic junction between Belgium, Netherlands and Germany. Four major inter-European highways meet at the so-called 'Aachener Kreuz'. Try the map on webWürselen.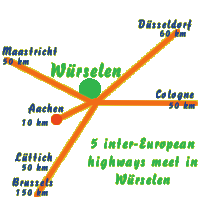 Traffic junction
The E39/A4 heading to Cologne (Köln) [50 km distance], the E5/A44 to Düsseldorf [60 km], A544 ending in Aachen [10 km], the E39/A4 to the Netherlands and Maastricht [50 km] and A44 Lüttich (Liege, Luik) [50 km] and Brüssel (Bruxelles, Brussels). All distances are rough estimates, it depends where you start from in Würselen and in the cities, respectively.
Airports
Two international airports are reached in less than an hour, (Düsseldorf International and Köln/Bonn), Two European wide serving airports at Maastricht and Mönchengladbach offer flight connection especially to London and the European capitals.
In addition, 2 km away of this traffic junction Würselen itself has an own airfield that will be reconstructed for air-crafts up to a weight of 5.9 tons and helicopters.
By train
Aachen provides connections to the French fast train net of the TGV and the German InterCity net.
By ship
We are sorry that you can not go by ship to travel to Würselen :-)
If you need assistance for trip canoe. From the Northern sea try to enter the river Maas, at Roermond choose the river Rur and turn into the river Worm and go upsrteam until you reach Würselen. Going back is just easy: Go downstream. :-)